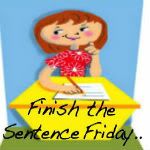 Happy Friday, y'all. This is my first attempt at linking up to anything, so bear with me if this doesn't get where it's supposed to go today! But, after reading a couple of these
Finish the Sentence Friday
topics I thought it'd be nice to throw my towel in, too! So, here it goes.....
When it comes to reality tv shows I....
am a huge fan of several series!
My absolute favorite reality series will always be
Survivor
, probably because Casey and I watch it together. Casey deployed after the season premiere in 2010 so I dutifully recorded the episodes and we watched them when he returned. Since we loved that experience so much, we record the entire season and then watch episodes back to back over a few days rather than being in suspense week after week! The next season is set to premiere in just a few weeks, I better get the DVR ready!
I can't recall exactly how we heard about
My Big Redneck Vacation
, but the third season just premiered last Saturday. The show chronicles the adventures of a proud redneck family from Louisiana appropriately named the Clampets. Love it.
Oh, and who can forget
Honey Boo Boo
. I just can't help myself, this show is strangely addictive. I can never decide if someone should call social services, or if they should be applauded for their unusual antics.
Next week: "The most-memorable Valentine's Day I ever had was…"